kmtb

(Homepage)
2004-09-01 14:19:23, 조회 : 12,201, 추천 : 1306
- Download #1 : steves.jpg (30.1 KB), Download : 40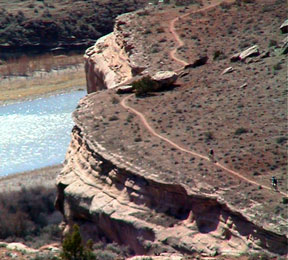 - Download #2 : curiak_mike_snow.jpg (10.7 KB), Download : 35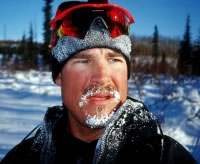 코코펠리 트레일(Kokopelli Trail)에서 신기록 수립한 마이크 큐리악(Mike Curiak)

글: 존 웨러래스


마이크 큐리악은 제 4 회 코코펠리 트레일 142 마일 경기에서 무려 종전 기록을 2 시간이나 앞당긴 14 시간 17 분의 새로운 기록을 세웠다. 코코펠리 트레일은 유타(Utah) 모압(Moab)에서부터 콜로라도(Colorado) 로마(Loma)의 동쪽방향으로 14,000 피트 정도나 오르는 굉장한 코스이다.
오전 3 시, 모압의 슬릭록 트레일(Slickrock Trail)에서 출발하자 선수들은 바로 샌드 플래츠 로드(Sand Flats Road)를 따라 올라가 라 살(La Sal) 산에 이르렀다. 파라곤 스포츠 (Paragon Sports) 게리 다이(Gary Dye) 선수는 놀라운 초반 스피드로 라 살의 첫 오르막 길에 들어섰다. 채드 올슨(Chad Oleson) 선수는 안전하게 달리는데 필요한 라이트를 잘못 선택했다. "내 라이트 불빛이 너무 어두워서 게리의 불빛을 이용하기 위해 나는 그에게 바짝 붙어야 했다." 라고 채드는 말했다. 큐리악는 두 선수를 따라 잡기에 전력을 다 했으나 결국은 두 선수가 자기의 리듬대로 오르도록 내버려 두는 수 밖에 없었다.
다이가 물을 정수하기 위해 멈추었을 때(※ 참고: 이 경기는 선수들에게 아무 것도 제공하지 않는다) 큐리악과 올슨은 이미 멀리 갔다. 다이는 반 남은 경주에서는 힘들고 고독하게 3 위를 달려야만 했다. "이런 상황으로 경기를 포기해야 할 정도는 아니었다. 앞으로 있을 2,500 마일의 그레이트 디바이드(Great Divide) 경기를 대비해서 나는 145 마일의 경기를 완주하기 원했다." 라고 다이는 말했다.
큐리악은 약 14 시간 정도 되었다고 생각했으며 자기와 올슨과는 3 분 정도의 거리가 있다고 예상했다. "우리는 서로 협상을 한 적은 없으며 함께 일한 적도 없다. 단지 매번 같은 경기에 참가 했을 뿐이다." 라고 그는 말했다.
두 사람 모두 기록을 갱신한 것을 알았냐는 질문에 올슨은 "사실 나는 시간을 몰랐다. 해지기 전에 결승점에 이르기를 바랬는데 결승점에 가까이 이르렀을 때는 해가 아직도 한참 남아 있었다." 큐리악 역시 시간이 가는 것을 몰랐다. "피쉬 포드(Fish Ford)에서 길을 잃은 후 나는 시간을 체크할 여력이 없었다. 결승점에 다가와 멈춘 후에야 나는 나의 기록을 알았고 나의 전신이 떨리는 것을 느꼈다. 약간의 시간 계산이 필요 했다." 라고 그는 말했다.
올슨은 14 시간의 기록을 세운 후 기뻐하면서 "나는 거의 일년 동안 훈련과 경기를 하지 못했었다. 그러나 여기에서 물러 설 수 없다고 생각하고 늘 경기에 참가하고자 하는 마음이 가지고 있었다. 그러던 중 좋은 베이스 캠프를 마련 할 수 있었다. 그러나 강도 높은 훈련을 할 수 없었고 경기에 참가 할 수도 없었다. 큐리악을 따라 잡을 수 없었지만 이 정도 기록에도 나는 만족한다." 라고 말했다.
신기했던 것은 톱 3명의 선수 모두 29 살이다. 큐리악은 무츠 YBB(Moots YBB), 올슨은 티터스 Ti 레이서-X(Titus Ti Racer-X), 그리고 다이는 윌리츠 뉴쉐리프(Willits New Sheriff) 하드테일 자전거를 타고 경기를 참가했다.



------------------------------------------------


Mike Curiak 의 프로필

Name: Mike Curiak
City: Grand Junction

State/Province: Colorado

Country: USA

Age: 31

Category: Pro

Sponsors: Clif Bar, Oakley, Medalist, Outlast, DT Swiss/Hugi, Wigwam, SRAM, Hayes Disc Brakes, Lake Cycling, Old Chicago, Ultimate Direction, NiteRider Lighting, WTB

XC or DH Race Bike: Willits 29"er

Tires: WTB Nanos and Motos

Shoes: Lake

Clipless Pedals: Wellgo

1. What year did you start racing mountain bikes?

1989


Unalakleet, Alaska, along the Iditarod Trail

Grand Junction, CO



2. What is your best result so far? (example: 3rd Place Senior Expert Men - Mt. Snow, VT - 2000)

1st, 2000 Iditasport Impossible, 1100 mile race across Alaska in winter.
1st to single-speed the Leadville 100
Multiple 12 and 24 hour course records

3. What is the most and least number of hours that you train in a week? (Not zero but the least number of hours you actually train)

8 on the low end, 30 on the high end.

4. Name your favorite XC and/or DOWNHILL race course?

For NORBA type stuff, I really enjoy the Rage in the Sage course in Gunnison. For 100 milers, there's nothing like the Cascade Creampuff. For 24 Hour events, Canaan was unrivaled. For racing on snow, I really like the variety on western Colorado's Grand Mesa. I'm working on putting together a 250-mile self-supported race up there this year.

5. Name your favorite place to ride:

Crested Butte, Colorado for alpine singletrack.
Whistler/Squamish/Pemberton/Vancouver for wicked-gnarly-humbling-technical.
Grand Junction/Fruita/Moab for shoulder season high-desert riding.

6. What is the longest distance or number of hours that you have ridden XC in one day on a mountain bike? (EXCLUDING A 24 OR 12 HOUR RACE unless SOLO!)

41 hours non-stop in the Iditasport Impossible. It took me 15 days to finish the 1100 miles (that's the course record), and I averaged 19.5 hours per day on the bike.

7. How much of your training is on the road?

Ohhhhh, about half. I just enjoy riding trail so much more that I try to structure my workouts to fit certain trails.

8. Do you cross train or use weights?

I ski, snowshoe, run, snowboard, and try to fit in core strengthening exercises a few times a week.

9. Do you use supplements or sport drinks?

Pallets and pallets of Clif and Luna Bars.

10. Do you do anything special (besides the whole training lifestyle) to prepare for an important race?

Rest is the most important thing in the week previous to a big race. You can't make yourself any stronger, but you can sure slow yourself down.

11. Do you use a heart rate monitor?

Not in 6 or 7 years.

12. Do you keep a training log?

A very basic one.

13. What do you consider your strong points on a race course, hills, technical sections, downhills?

Hills are a definite weak point--I have the anaerobic capacity of a newt. Techy stuff, roller coasters, and descents I typically shine on.

14. What aspect of mountain biking is the most fun for you?

Trying to be smooth in every situation. I want to ride everything, everywhere, as though I've been there before and know the lines like a local.

15. What is your greatest moment (biggest rush) that you have experienced on your MOUNTAIN BIKE?

Seeing the sunrise from the saddle after having ridden all day and all night long.

16. Do you have any suggestions for Beginner racers?

Go slow to go fast. Learn to maintain your bike--it'll save you money, time, and might just save your butt on an epic someday.